بسم الله الرحمن الرحيم
Hizb ut Tahrir / Wilayah Bangladesh: Online Economic Conference: Economic Vision of the Islamic Khilafah
Date: July 5, 2019 Bangladesh Time: 03:30pm (GMT 09:30am)
The first speech will expose the destructive policies of Hasina Regime in Bangladesh. The main points covered in the talk will be:
Policy of Sheikh Hasina – Mega projects for the purpose of mega corruption instead of building much needed basic infrastructures.
The nation burdened with local and foreign loans while the political elite and crony capitalists loot banks and launder the money abroad.
Exploitative income tax and VAT, increased price of electricity and gas, uncontrolled price hike of essentials...
Establishing the domination of imperialists USA-Britain-India over the country's industry and trade, natural and strategic resources.
The second speech will outline the Economic Vision of the Khilafah State, and cover some key policies and actions of the Khilafah State:
Ensuring the basic rights of every citizen, regardless race, religion and gender.
Abolishment of the exploitative income tax and VAT system.
Uprooting the control of local and foreign companies over the country's resources, and proper utilization of the resources for the welfare of people and basic infrastructure building.
Building war-based heavy industry and generating huge employment opportunities.
Unifying the Muslim Ummah and utilizing her wealth to become the leading economic power in the world.
The concluding speech will give an effective political program to remove the current regime and re-establish the Khilafah Rasidah.
Friday, 02 Dhul Qidaa 1440 AH - 05 July 2019 CE

- Live Stream of Online Conference -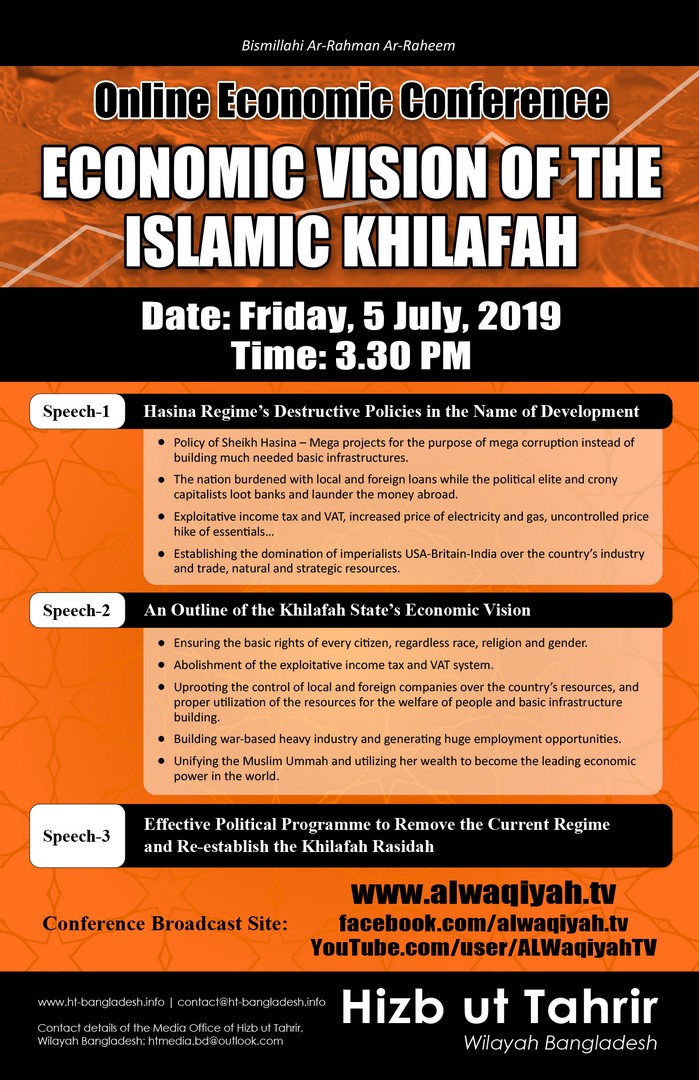 back to top