بسم الله الرحمن الرحيم
Hizb ut Tahrir / Wilayah Sudan Ummah's Affairs Forum
Support for Goods and Services Between Collection and Care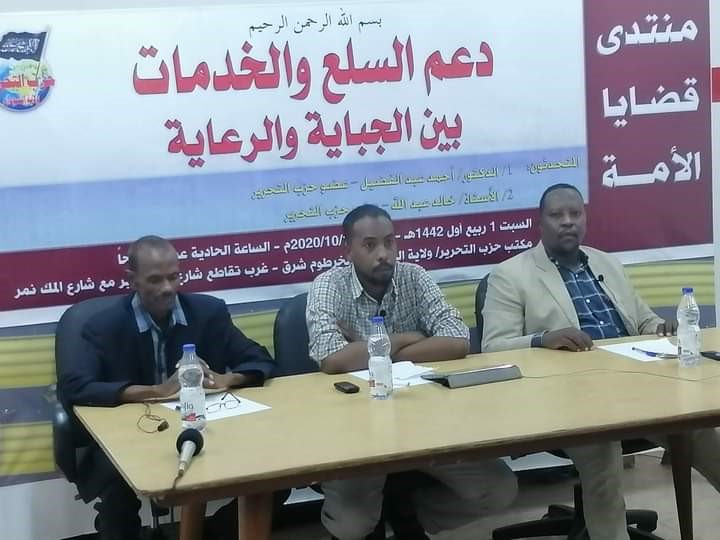 Hizb ut Tahrir / Wilayah Sudan held its regular Ummah's Affairs Forum titled "Support for Goods and Services Between Collection and Care" on Saturday, 1st Rabi' Al-Awwal 1442 AH corresponding to 17/10/2020 - at 11 am.

The first paper was entitled: "Lifting Support and Addicting Failure", presented by Dr. Ahmad Abdul Fadheel, member of Hizb ut Tahrir, who emphasized through his paper that the government is addicted to failure in all aspects of political, economic, social and other aspects of life.
Then Ustaadh Khalid Abdullah, a member of Hizb ut Tahrir, spoke about the treatments, indicating that the reason for these crises is the establishment of the state on the basis of other than Islam. The state of Islam, which is based on the Islamic creed, forbids the causes of high costs represented in customs, taxes and monopoly, and all of these raise the prices of goods and services, and the sanctity of each of these transactions is evidenced by a Sharia text prohibiting them.
The forum commenters included:
1. Ustaadh Mohamed Mabrouk - well-known journalist.
2. Dr. Saad Ahmed Saad - Member of the Sudan Scholars Association.
3. Prof. Muhammad Osman Saleh - Chairman of the Sudan Scholars Association.
4. Ustaadh Abdullah Imam - History Researcher.

In conclusion, Eng. Ahmed Saad Al-Hussein, a member of Hizb ut-Tahrir and the forum officer, thanked the attendees in the hall and the forum's followers through the media for their participation and follow-up.
Saturday, 1st Rabi' Al-Awwal 1442 AH corresponding to 17 October 2020 CE
Delegate to the Central Media Office of Hizb ut Tahrir in Wilayah Sudan
back to top