بسم الله الرحمن الرحيم
Hizb ut Tahrir / Wilayah Sudan
Inclusive Conference for Tribal Chiefs, Leaders and Scholars in Eastern Sudan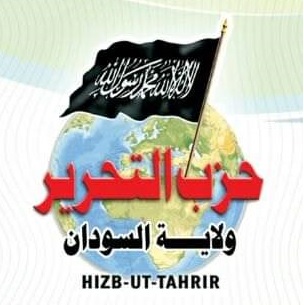 In order to bury and remove the strife of tribal conflicts in eastern Sudan, and as part of our belief that the great Islam, throughout human history, is the only one that unites people's voices, brings the ranks together and melts people into one melting pot. Rather, the systems of Islam that the Khilafah Rashidah (right guided Caliphate) State implements in accordance to the method of the Prophethood, is the only way to a safe and secure Islamic life, in which sanctities are preserved and hearts are brought together as confirmed by Allah Almighty as He said:
[وَأَلَّفَ بَيْنَ قُلُوبِهِمْ لَوْ أَنْفَقْتَ مَا فِي الْأَرْضِ جَمِيعًا مَا أَلَّفْتَ بَيْنَ قُلُوبِهِمْ وَلَكِنَّ اللَّهَ أَلَّفَ بَيْنَهُمْ إِنَّهُ عَزِيزٌ حَكِيمٌ]
"He brought their hearts together. Had you spent all the riches in the earth, you could not have united their hearts. But Allah has united them. Indeed, He is Almighty, All-Wise."[Al-Anfal: 63].
Hizb ut Tahrir / Wilayah of Sudan invites you to attend the Inclusive Conference for Tribal Chiefs, Leaders and Scholars in Eastern Sudan under the slogan:
[وَاعْتَصِمُواْ بِحَبْلِ اللَّهِ جَمِيعًا وَلاَ تَفَرَّقُوا]
"And hold fast onto the rope of Allah and do not be divided" [Al-i-Imran: 103]
Venue: Al-Gedaref City - Wad Al-Barra Hall in front of Al-Gedaref Municipality building.
Time: November 21, 2020 from 9.30 am until 3.30 pm.
Your presence is a building block in the edifice of an Islamic life.
Press Release
Recommendations of the Inclusive Conference in Al-Gedaref!
6 Rabii' ath-Thani 1442 AH - 21 November 2020 CE
An Invitation to Attend the Inclusive Conference
For Tribal Chiefs, Leaders and Scholars in Eastern Sudan
Ibrahim Othman (Abu Khalil)
Official Spokesman of Hizb ut Tahrir in Wilayah Sudan
Conference Trailer
Video Recordings of the Inclusive Conference
Commencement
Welcoming Speech

Talk by Ustaadh Muhammad Jama (Abu Ayman)

Talk by Ustaadh AbdulRaheem al-Shareef

Talk by Ustaadh Yaqoob Ibrahim

Talk by Ustaadh Ibrahim Othman (Abu Khalil)
The Official Spokesman of Hizb ut Tahrir / Wilayah Sudan
Honorable Interventions from eastern Sudan

Recommendations

Talk by Sharif Abdul Rahim Al-Daseis
A leader in the East and a Supporter of the Call of Hizb ut Tahrir
Talk by Journalist Mohamed Mabrouk
Talk by Ustaadh Hassan Abdel Hamid
Deputy Secretary-General of the Muslim Brotherhood
Speech of Sheikh Ahmed Shaker
Mayor of the Ashraf tribe in eastern Sudan
Talk by Sheikh Tawfeeq Daf' Allah Mustafa
Imam of the Sharif Mosque Al-Aqib in Gedaref
Talk by Dr. Muhammad Al-Tayeb
Member of the Scholars Council in Gedaref State
Speech of Sheikh Abu Bakr Mohiuddin
of the Scholars of eastern Sudan
Talk by Sheikh Idris Musa
Imam of Al-Shawk Mosque in Al-Gadaref city
Sheikh Omar Mohammed Majzoub Al-Azraq
Imam of the Grand Mosque in the city of Gedaref
Talk by Journalist Ali Daoud
Sheikh Daoud
Agent-Headmaster of the tribe of Al-Bunni Amer in eastern Sudan
Notables of the state of Gedaref
Ustaadh Idris Yassin - Suleiman
Political Secretary of the People's Congress Party
Sheikh Muhammad Al-Fadl
Representative of the Region of all tribes of Dar Bakr
Sheikh Al-Sharif Haroun Al-Sharif Zain Al-Abidin
Successor to the Chief of Sheikh Al-Obaid and the Sheikh of the Sufi order
Representative of the South Sudanese residing in eastern Sudan
Mayor Muawiya Kram
Mayor of the Maria Tribe in Gedaref
Ustaadh Kafe Kuwa Douai
Chairman of the Conflict Resolution Committee in the Native Administration for the Nuba Tribe
Ustaadh Mamoun Kafi
from the Nuba tribe in eastern Sudan
Sheikh Muhammad Ishaq Haroun
Imam and Preacher (Khateeb) of the Al-Hoda Mosque in Qadarif and Secretary-General of the Change and Services Committee in October
Comment by Muhammad Jameh
Assistant Spokesman for Hizb ut Tahrir in response to the Audience's Talks
Comment by Ustaadh Yaqoub Ibrahim
Member of Hizb ut Tahrir in response to the Audience's Talks
Media Coverage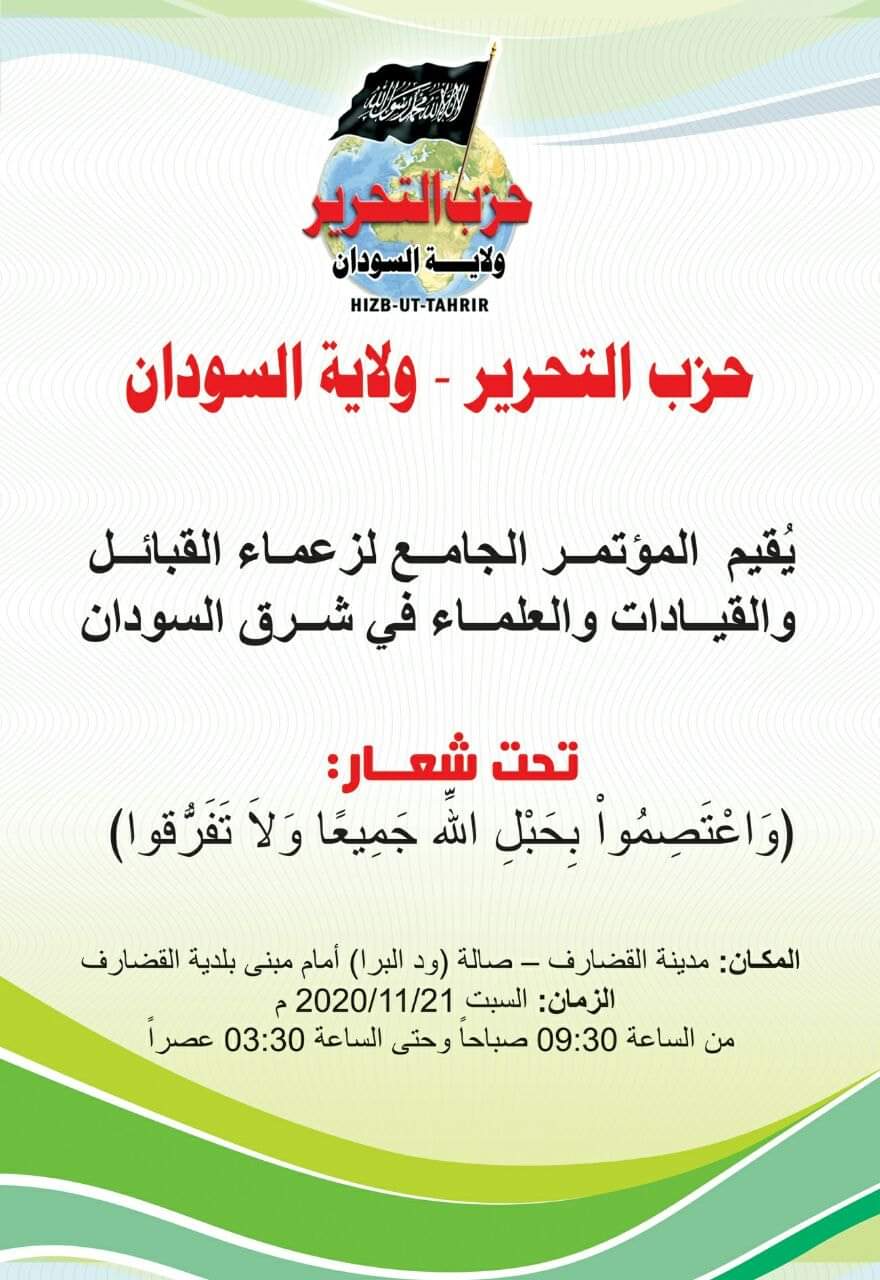 Image Gallery
{gallery}20464{/gallery} back to top