بسم الله الرحمن الرحيم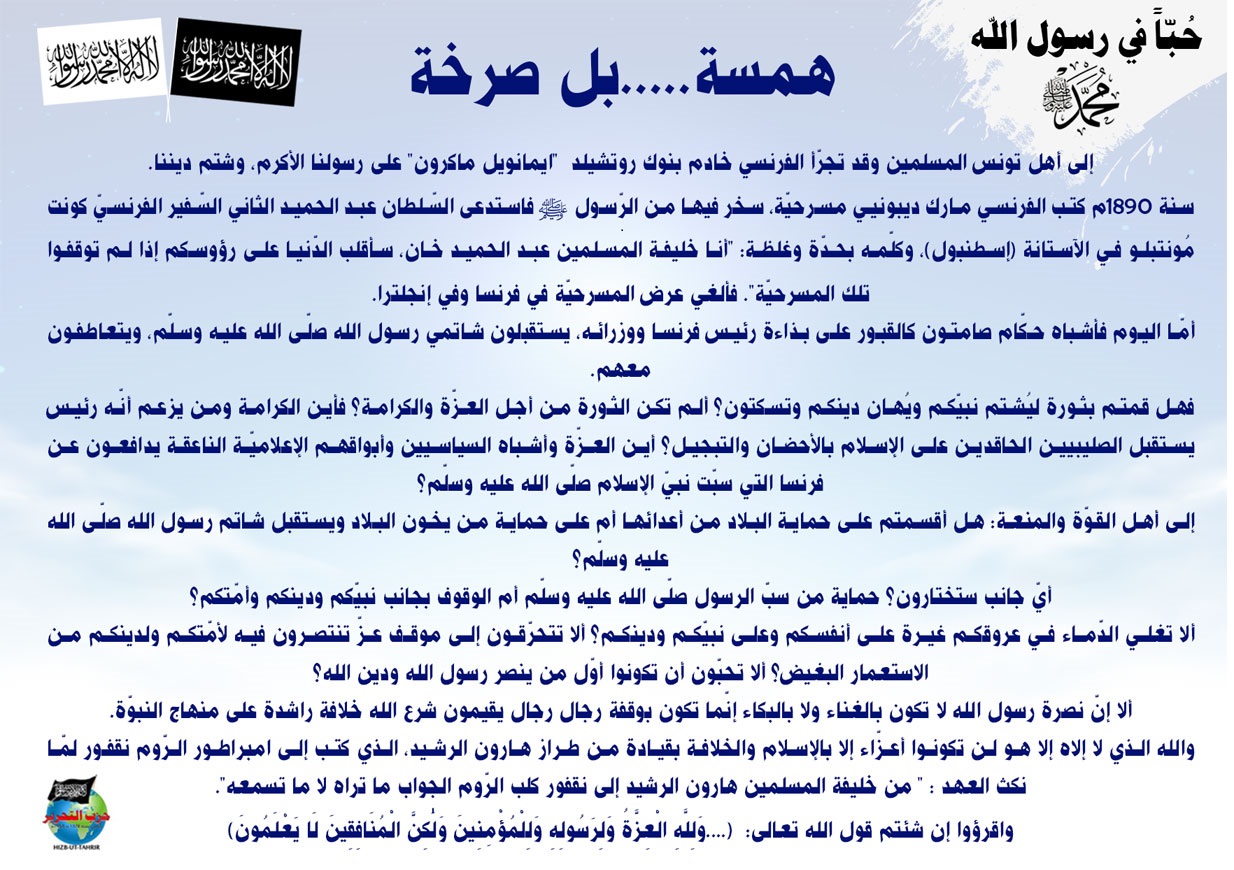 Hizb ut Tahrir / Wilayah Tunisa Organizes Two Protests for the Nussrah of Prophet Muhammad (saw)

Hizb ut Tahrir / Wilayah Tunisia organized two stands in support of the Messenger of Allah (saw), in opposition to the crusade led by France against Islam, the Prophet of Islam and the Ummah of Islam under the cover of "freedom of expression".
The authority obstructed the Hizb's activity and targeted the crowds heading towards Al-Thawra Street in the capital to disperse them, while preventing the stand that was scheduled to take place on the morning of Thursday, October 29 in front of the Municipal Theater.
The security forces cordoned off the stop and arrested a number of the Hizb's Shabab, namely Brother Muhammad Alaa al-Din Arfaoui, Brother Muhammad Ali al-Salmi, Brother Muhammad Amin al-Zawatni and Brother Sufyan al-Abbasi.
Nevertheless, the Hizb's Shabab were able to distribute a large number of soft campaigns in the streets of the capital, about the necessity of supporting the Messenger of Allah (saw).
Local media documented incidents of assaults on the Shabab of Hizb ut Tahrir in the capital.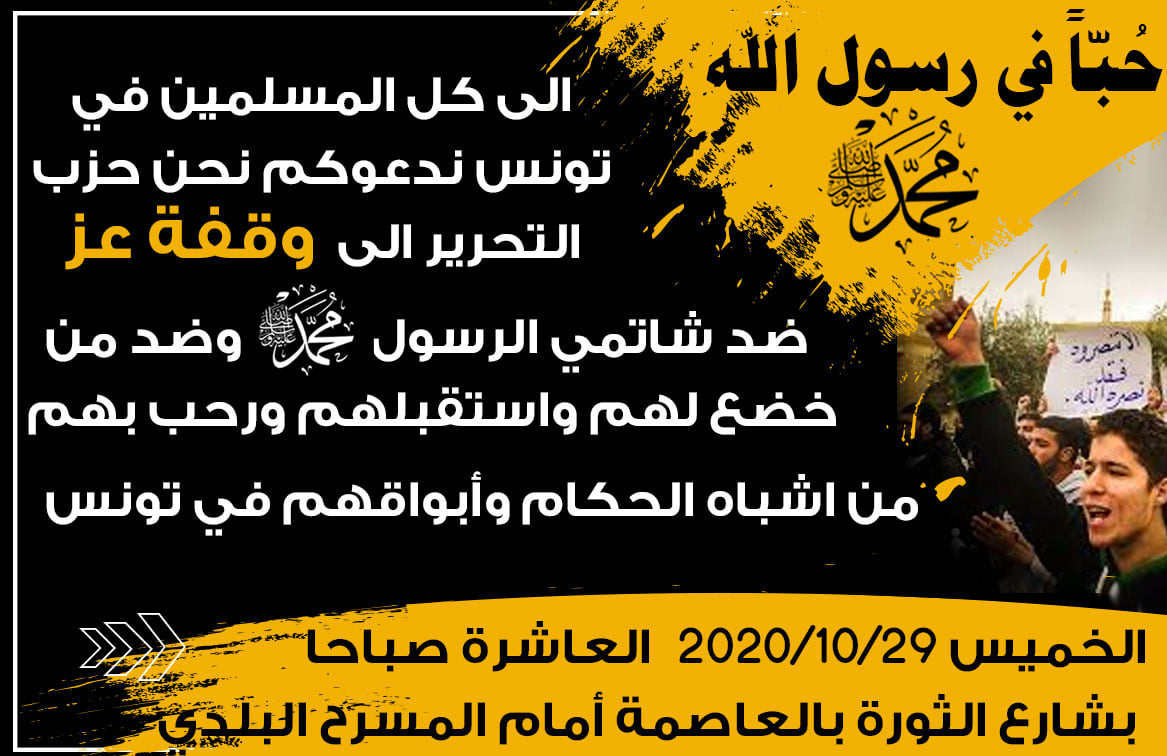 In conjunction with the party's activity in the capital, the Shabab of Hizb ut Tahrir in Kairouan registered their presence by carrying out a stand against France's hostile practices towards the Ummah's Prophet (saw) in Bab Djalladine, where Brother Ezzedine Aouishawi gave a speech in which he mentioned the crimes of France and the response of the Caliphate during the days of Sultan Abdul Hamid II. In it, he called upon the people of Tunisia, on top of them the people of strength and authority, to stand by us in championing this Deen and our noble Messenger (saw) to establish a state that applies the Shariah of Allah and is guided by the guidance of the Messenger of Allah (saw).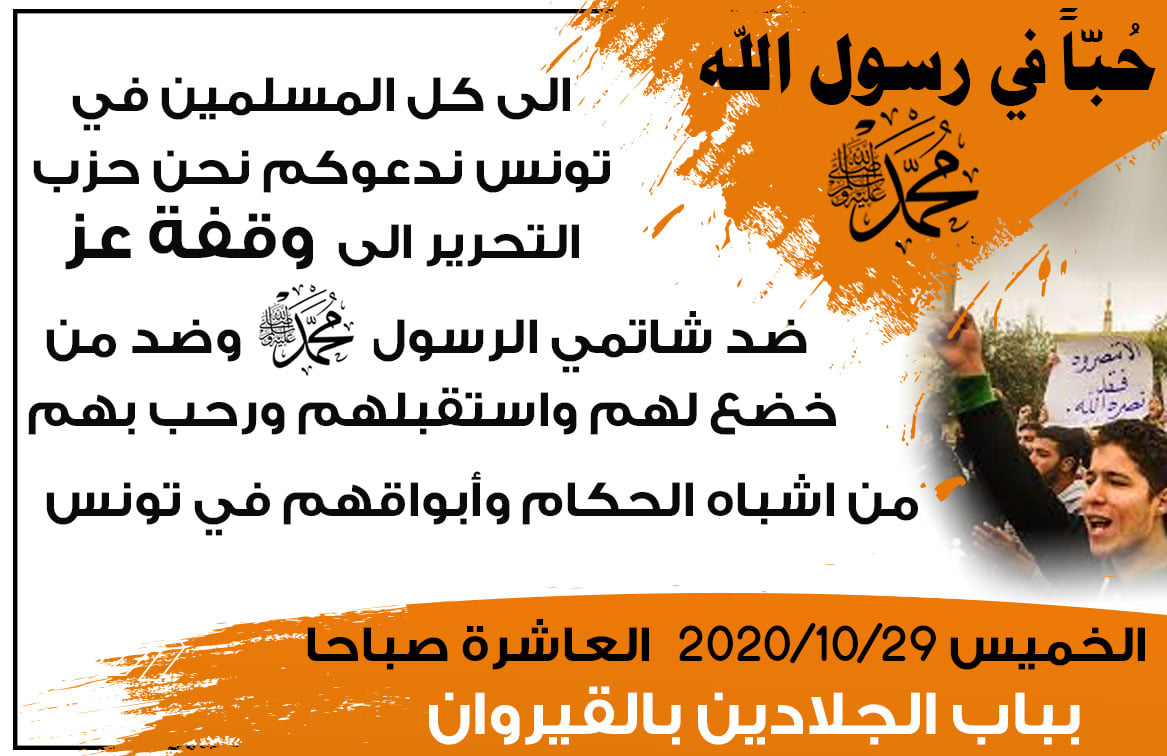 The soft campaigns served remind the people of the necessity of supporting Islam and the Prophet of Islam by establishing the state of Islam, the second Khilafah Rashidah (rightly guided Caliphate) State on the method of Prophethood.
Delegate to the Central Media Office of Hizb ut Tahrir
in Wilayah Tunisia
12 Rabii' al-Awwal 1442 AH - 29 October 2020 CE

Sidelines for the Activities


Media Coverage
Click here for the links in Arabic


back to top