بسم الله الرحمن الرحيم
Hizb ut Tahrir/ Wilayah Afghanistan: University Students: End your ties to the US
Kabul 16 September 2012 - Students from different universities of capital publically demonstrated today to condemn a blasphemous film and sought harsh punishment for the producer along with ending all types of diplomatic links with the invaders including US and her allies.
Made by American-Israeli real estate investor Sam Basil, the movie was recently released by the same Christian pastor who last April attempted to burn copies of the holy Quran in the US.
After the release of the film, Muslims have been staging anti-US and anti-West protests in Libya, Egypt and other Muslim lands. One violent protest in the Benghazi city of Libya led to the death of four Americans, including the US ambassador.
The students along with some lecturers of Kabul, Education, Medical and Polytechnic Universities, as well as Afghan Technical and Vocational Institute (ATVI), attended the protest.
The protesters set afire photos of President Barack Obama, the US and Israeli flag, but organizers tried to prevent violence during the protest and avoided creating problems for the people.
The students carried slogans saying:
"Democracy is system of kufr, calling of people to it and its implementation is fully forbidden."
"We'll bring the criminals to the court soon"
"Muslims need the Ummah's charter"
"One Land, One State, One Army, One System and One Struggle is an Obligation (Fardh) upon the Muslims"
"The Help of Allah (Nussrah) is imminent"
The main difference of the current protests of the Muslim Ummah with the others is that; this time after downing the US flag, the protesters raised the flag of Islam (Ra'ya) or the flag of Rasool ul Allah SAW. In the same manner, the students of the capital in Kabul also raised the flag of Islam and chanted against the continuation of occupation upon the Muslim lands.
At the end of the demonstration, the students issued a declaration, condemning the Obama administration's refusal to take action against the moviemaker. While demanding a public trial of the producer, they asked the Afghan government to expel foreign troops from the country and scrap a strategic cooperation agreement with the US. They asked the Muslims of Afghanistan to mobilize all their resources against the invaders and colonizers, and unify their struggle for reestablishing our shield, which is the Khilafah "Caliphate" State. They openly called the people to carry the dawa for raising awareness regarding practical implementation of Allah's System, Islamic way of life - Khilafah "Caliphate".
Maseeh Abdullah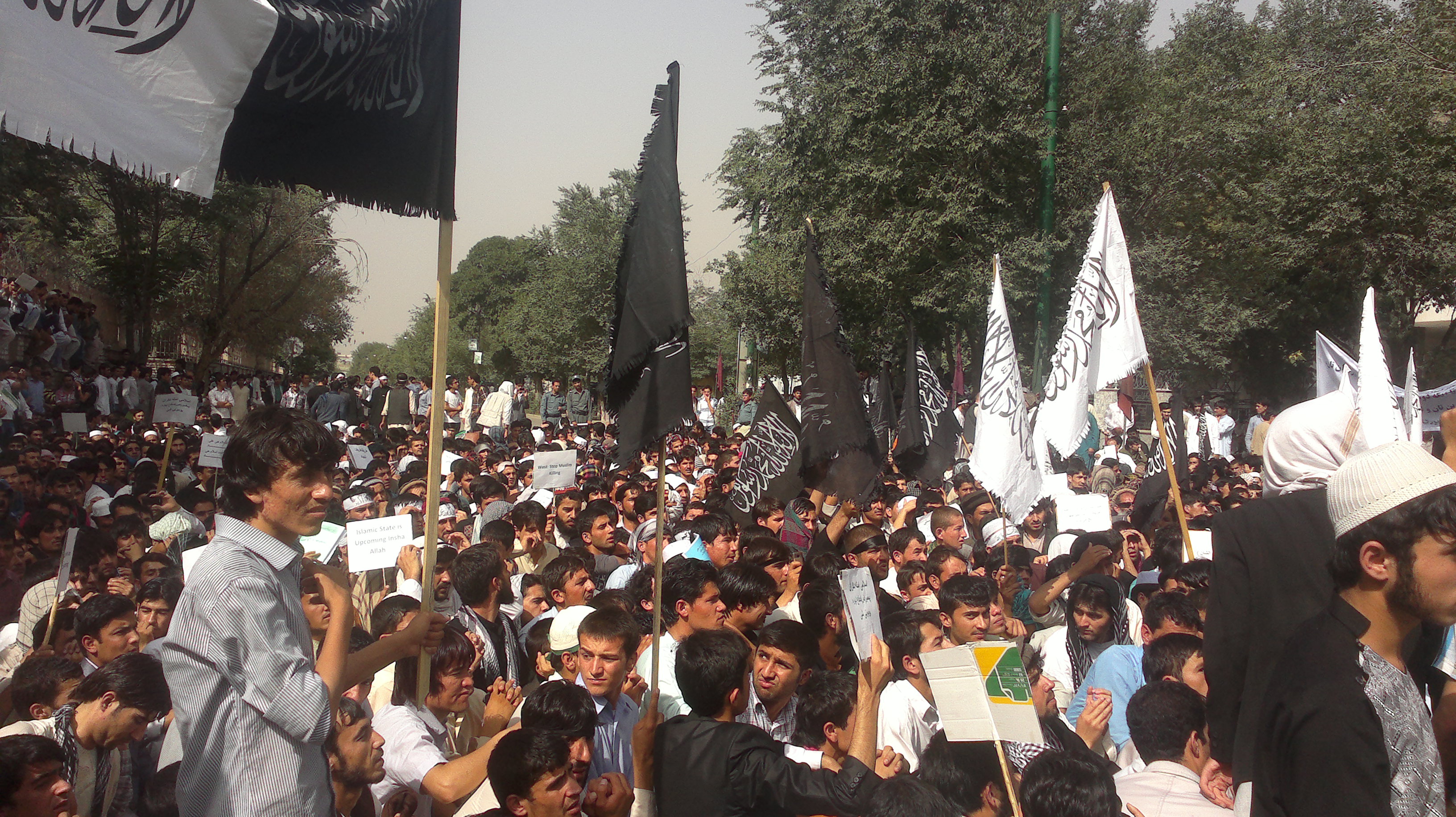 back to top