Press Release Hizb ut Tahrir / Wilayah of Jordan Organized Six Pickets after Friday Prayer in Several Jordanian Cities (Translated)
بسم الله الرحمن الرحيم
Alhamdulilah, Hizb ut Tahrir Wilayah Jordan held six pickets condemning the massacres of the tyrant Bashar and called upon the armies to arise from their slumber. These pickets took place in response to the chemical weapons attack on Ghouta that was perpetrated by Bashar's criminal regime.
Hizb ut Tahrir organized these pickets yesterday, Friday 16 Shawwal 1434 AH, 23rd August 2013, in several cities throughout Jordan before the following mosques:
1. Jami'ah Al-Urduniyah Mosque - Amman
2. Al-Madaris Mosque in Wahdat - Amman
3. Al-Qasrawi Mosque in Jabal An-Nasr - Amman
4. Al-Faiha' Mosque - Irbid
5. Al-Maktoom Mosque - Az-Zarqa'
6. Yusuf As-Siddiq Mosque in Jareeba - Ar-Rusaifah City
The speeches delivered encouraged the Muslims to move in support of the people of Ash-Sham. The speakers also demanded that the armies that neighbor Syria mobilize immediately to rescue the people of Ash-Sham from the massacres that are committed daily against their rights and to bring an end stop to the flood of their pure blood.
These armies will have no excuse before Allah (swt) on the Day of Judgment when they will be questioned about their complicity in abandoning the powerless sons of the Muslims.
We ask Allah the Almighty to hasten the victory of this Ummah and its empowerment under the Khilafah "Caliphate" State upon the method of the Prophethood so the Ummah regains its glory and dignity. And may Allah (swt) fill the hearts of the Believers with tranquility by the hand of the Muslim Khaleefah who protects them from all tyrants, for Allah is near and He is the All-Seeing.
The Media Office of Hizb ut Tahrir
Wilayah of Jordan

Picture Slideshow: Click Here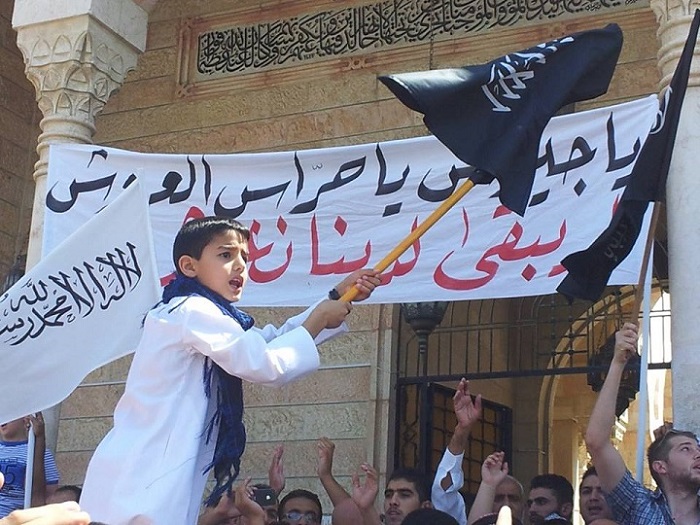 back to top