Media Office
Wilayah of Jordan
H.

21 Jumada II 1433

No:

15/33

M.

Saturday, 12 May 2012
Press News Children's Protest: "What Was Their Sin?"

Amman, Jordan - Saturday, May 12, 2012, 21 Jumada II 1433, at 9:30 AM, hundreds of children and women participated in a protest organized by Hizb-ut-Tahrir / Wilayah Jordan, in front of the Syrian embassy protesting against the brutal Assad regime. To denounce the crimes of the brutal regime against civilians, women and children under the slogan, "What was their sin?"

Alongside the children, the blacks flags whisked in the air. Children staged re-enactments of carrying children's corpses and proceeded to carry pictures of tortured and murdered children committed by the Assad regime. Several youth gave speeches denouncing the Syrian regime, raising slogans of support for the children and women in Syria. "The children of Syria are the spark of the revolution and its support." "The children of Syria call upon you. Will you heed the call?" "My father advised me before being martyred,' the Khilafah "Caliphate" is your protection!'" "Drink our blood if you may since our bloodshed is worthwhile, if it restores Islam."

The children dressed in blood-drenched death robes performed small skits to demonstrate the calamities of our Syrian children while carrying symbolic dead infant-dolls placed them in front of the Syrian embassy. The enactments were interrupted by the Syrian embassy using loud speakers disrupting the participants.

Media reporters attended the protest, conducted interviews with the head of the Media Office, Mamdouh Qteishat, and with a number of children and women involved in the protest.

The Media Office of Hizb ut Tahrir in Jordan Wilayah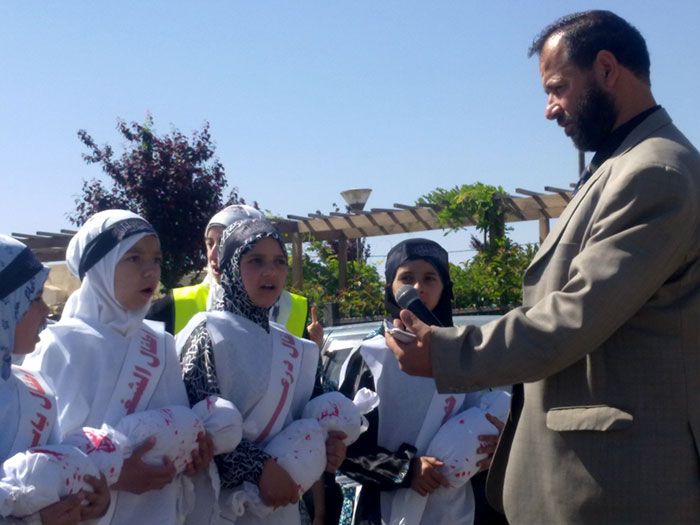 Hizb-ut Tahrir: Media office
Wilayah of Jordan
Address & Website
Tel:
http://www.hizb-jordan.org/
E-Mail: info@hizb-jordan.org